Hello. my name is Jen. i am the square root of evil. The square root of evil is not any more evil than you are, btw. I make music on my computer. sometimes i use controllers too. Now that i have my midi cable to sync things up you may even see my gameboy. my music has been described as quirky, breakcore, 8 bit, glitch, and more. i just like to make semi-fast songs with dumb melodies. hopefully you will enjoy them. either way, feel free to contact me via
hello, happy 2008.
i was interviewed by a lovely american awhile ago, he has posted the interview at Some Assembly Required. there is another ep coming out! really! hahahaha! no, really!
i am playing in london, england on saturday feb 23rd at Ginglik, and i am playing in athens, greece on friday feb 29 (oooh the spooky day!) at a place called Bios. and… hopefully i will have at least one other show while i am over there. i am very excited! i will put up posters when i get them.
i have been making some music lately, one song is pretty thumpy again (and super rad), and one is barely started but so far i think it will be very fluttery. spazzy? i dunno. fun! the fluttery one will be oot in may or so, the other one i dunno, maybe on another ep? maybe there will be 2 this year? oh, yes, i am an enigma.
i started a mail list!!!! you can opt in by going to ReverbNation. it will be quiet, mostly announcements about releases and shows. i guess kind of like this, but it means you don't have to come here. but i would like it if you did both. i dunno, don't all the cool people have lists? i would have a forum too, but i get the feeling it would only be me posting.
oh yes, and i have a facebook page now too.
also, i plan to update this website soon, like add some new pics and update the releases and stuff. i wiped my laptop awhile ago, and kind of forgot to put the internet editing apps back on. they are helpful when editing the internets. and i'm still harassing web people about the comments deal, i hope that is fixed soon.
ok ttfn!
September 30, 2007 - whew!
played my a440Hz set again last night for the installation party, it was fun to see all the performers again and be surrounded by the incredible art. i met a lot of really cool people through the course of it, and i hope to see and possibly even work with some of them soon. go see some pics of it all! i made 5 tracks for my set (well sort of, really i made of bunch of bits and improvised how it all came together). i plan to flesh these bits out into full songs so you may just hear them soon! i really, really enjoyed this whole experience. thanks celia and joel! yay! exclamation points!!!!!
i also did a remix last month for lipstickface, hopefully that will be out and about soon. it's the first remix i've done where i didn't completely destroy the original song. 🙂
now that all that is done, i plan to hunker down and get some new songs completed, the ones from A440Hz and a couple of others that are in the works. last year was so busy with shows and all, this year has been quiet, but it's been good because it means new songs. woooooooooooo!
what's up with the ep? i have no idea….and i don't really want to bug the label yet cause it took me almost a year to get the tracks to them in the first place. it would be a bit hypocritical, you know? but i'm sure it's all on track, it's tough to be a label these days i imagine.
no travel plans for 2007. just work. early 2008 maybe. it's ok though, my new place has a nice view so i just stare out the window a lot.
i might have a show in nov with someone very rad. updates to come…
August 3, 2007 - news!!!!
so i just got word that my ep is almost ready!!! hopefully in a couple of weeks. woooooo!!!!!! i'm so happy, the artwork by Kinoko is amazing, and i hope everyone likes the music. i think it's fun, fast and quirky at times, and a good mix of styles. one booty shaking techno track even!
next month i have a show for the new forms festival– the concept is really, really cool, and there are tons of other musicians and visual artists involved, including a few local favs of mine in both areas. very inspiring to meet with all these people, let me tell you. so yeah, i'm working on that set, which will be 100% new material. yiyiyiyiyiyikes!!!!!!
i ACTUALLY finished the last track for my ep. it's a miracle! just tweaking the mix now, and then gonna get all the tracks mastered and shipped off to the label. woooooooooo! i feel so much better, it's weird how things can stress you out so bad and you don't really notice until that stress is gone.
speaking of i have a show coming up on Jan 11 at the Lotus. i'm not actually that stressed, i think it will be chawesome fun. i plan to play the new track plus a cover song plus hopefully ANOTHER new track (if i get it done in time). crazy! and i am planning to use some gear i haven't used yet. we'll see if it all works out. if you live around here, please come see me play, i promise to have some booty shaking beats in there.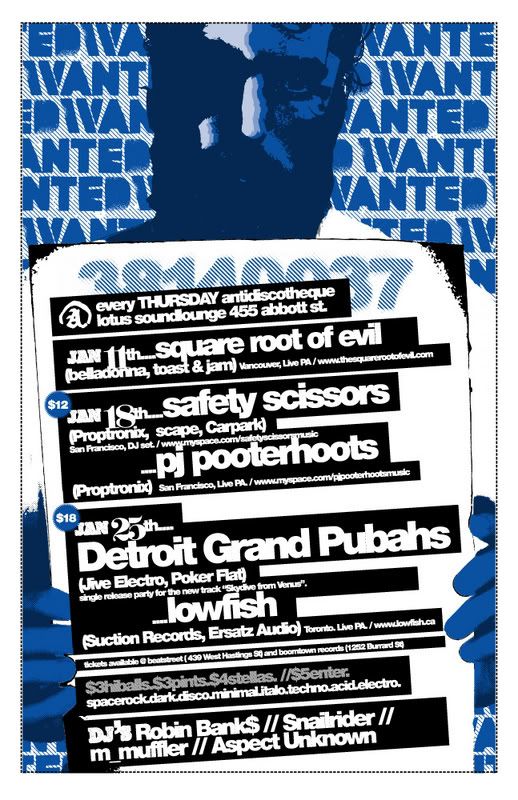 December 24, 2006 - 2006
what a RAD year. lots of shows all over the world, lots of music made, a few comp releases, a track on Bleep, and track played on XFM's the Rinse (!!!!!!!) and the best part of it all was all the amazing people i met this year. awesome.
i made another Christmas song, it's available over at The Peppermill. It was rather fun singing, even though I totally suck at it. I know it's probably too late to be posting it now, but oh well.
i have a show coming up in the new year on Jan 11 (at the Lotus- check live section for more info) and I hopefully have a show on Jan 27 in Seattle (still waiting for confimation). This is good, I want to visit my friend (mentioned in the previous post) as his tumours appear to be gone. Woooo! He still has massive bills though, but at least it looks like he will be ok. And Seattle is a neato city, especially in the dark and gloomy winter months. It can be very Bladerunneresque sometimes.
i orderered myself a MidiNES for my birthday last month, but now I have to find the old Nintendo. It's somewhere…. I am stoked to mess around. And yeah, that ep is still being worked on. I know, yeah yeah….. but I told myself it has to be done by the end of this year so I only have a week left! Yikes! And I won't even be around for most of the week cause I'm gonna be shacking up with a bunch of friends in the mountains and drinking in between snowboarding sessions. Hmmm, guess I should get working then. Merry Christmas!
so totally totally totally rad. this comp is an honour to be on, stoked these people enjoyed my set last spring in londontown and asked me to contribute a track. and now to be on bleep! i feel woozy. 😉
the portland trip was amazing, many props to the gang down there, senor frio for inviting me to play and ignatius for letting me take over his attic for a few days. went to cannon beach as well, rather spectacular. met 1/3 of ml (whose music i love muchly), and the both halves of ainu so that was fun too. lots of driving though, that part wasn't the most fun.
no shows on the radar until oct in helsinki. i am getting sleep and making tracks, it is heaven!
and bleep! wooooooooooooooooooooooooooooooooooooooooo!
So my amazing friend made me this amazing website and right about now I think he's pretty darn awesome. I love it. Words cannot convey…..
What else? Been busy working on tracks for my EP that's coming out this summer. Also- gonna go travelling again so I'm trying to sort out some dates in the UK and Japan (looks like Bristol is a go for Mar 1!). Been relaxing too, that's been rather pleasant. Hmmm…….
The show in Dec was rad. Spark played a really cool set with his clarinet and a bent toy, very impressive. Taal Mala was awesome (again) I love his rhythms. So full. And Skeeter was awesome- hilarious samples and SPASTIC beats. Right up my alley. 🙂
Powered by WordPress with Hiperminimalist Theme design by Borja Fernandez.
Entries and comments feeds. Valid XHTML and CSS.