Hello. my name is Jen. i am the square root of evil. The square root of evil is not any more evil than you are, btw. I make music on my computer. sometimes i use controllers too. Now that i have my midi cable to sync things up you may even see my gameboy. my music has been described as quirky, breakcore, 8 bit, glitch, and more. i just like to make semi-fast songs with dumb melodies. hopefully you will enjoy them. either way, feel free to contact me via
September 5, 2007 - flyer
i am excited……
August 3, 2007 - news!!!!
so i just got word that my ep is almost ready!!! hopefully in a couple of weeks. woooooo!!!!!! i'm so happy, the artwork by Kinoko is amazing, and i hope everyone likes the music. i think it's fun, fast and quirky at times, and a good mix of styles. one booty shaking techno track even!
next month i have a show for the new forms festival– the concept is really, really cool, and there are tons of other musicians and visual artists involved, including a few local favs of mine in both areas. very inspiring to meet with all these people, let me tell you. so yeah, i'm working on that set, which will be 100% new material. yiyiyiyiyiyikes!!!!!!
i ACTUALLY finished the last track for my ep. it's a miracle! just tweaking the mix now, and then gonna get all the tracks mastered and shipped off to the label. woooooooooo! i feel so much better, it's weird how things can stress you out so bad and you don't really notice until that stress is gone.
speaking of i have a show coming up on Jan 11 at the Lotus. i'm not actually that stressed, i think it will be chawesome fun. i plan to play the new track plus a cover song plus hopefully ANOTHER new track (if i get it done in time). crazy! and i am planning to use some gear i haven't used yet. we'll see if it all works out. if you live around here, please come see me play, i promise to have some booty shaking beats in there.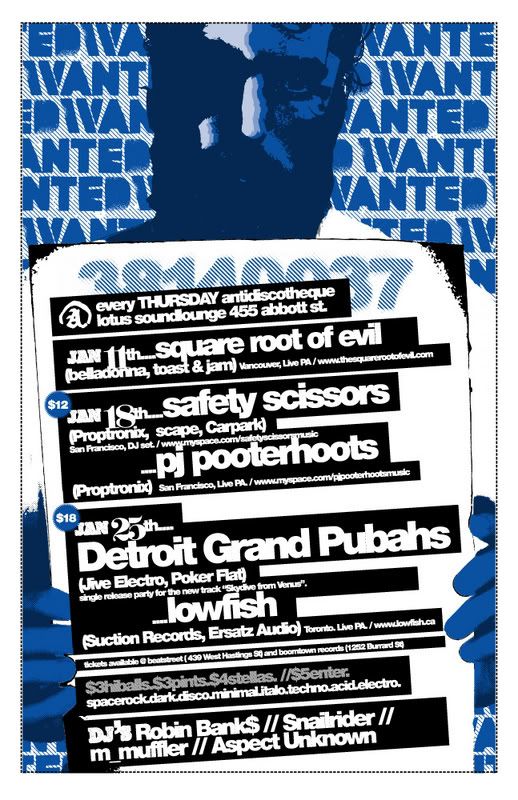 December 24, 2006 - 2006
what a RAD year. lots of shows all over the world, lots of music made, a few comp releases, a track on Bleep, and track played on XFM's the Rinse (!!!!!!!) and the best part of it all was all the amazing people i met this year. awesome.
i made another Christmas song, it's available over at The Peppermill. It was rather fun singing, even though I totally suck at it. I know it's probably too late to be posting it now, but oh well.
i have a show coming up in the new year on Jan 11 (at the Lotus- check live section for more info) and I hopefully have a show on Jan 27 in Seattle (still waiting for confimation). This is good, I want to visit my friend (mentioned in the previous post) as his tumours appear to be gone. Woooo! He still has massive bills though, but at least it looks like he will be ok. And Seattle is a neato city, especially in the dark and gloomy winter months. It can be very Bladerunneresque sometimes.
i orderered myself a MidiNES for my birthday last month, but now I have to find the old Nintendo. It's somewhere…. I am stoked to mess around. And yeah, that ep is still being worked on. I know, yeah yeah….. but I told myself it has to be done by the end of this year so I only have a week left! Yikes! And I won't even be around for most of the week cause I'm gonna be shacking up with a bunch of friends in the mountains and drinking in between snowboarding sessions. Hmmm, guess I should get working then. Merry Christmas!
and i've managed to book some shows. 🙂 i land in oslo on friday and then make my way over to helsinki via various cities in sweden. when i am in helsinki, i play a show!
i think it will be way fun, i know most of the people playing (thanks internet machine!!!) and we are all staying in the city for a few days so there will be a fair bit of drinking and geeking methinks. a perfect combo. then Robin and i are hoping to take a train to st. petersburg for a couple of days of sightseeing, visa approval permitting. 🙂
after that it's off to london where i have TWO shows, one is a CD release party for that lovely Uncharted Audio comp I am on. It's going to be at 43 south molton, details and poster to come. 🙂
then on the 21st I am playing at the fluid bar for detonante. RAD.
then i fly back to stockholm because i won't have had a proper chance to see it until then, and finally down to amsterdam for a week or so. i hope to (airline ticket change fees permitting) have a show there on the 4th on nov (the day after my birthday), possibly more. 🙂 wooooo!
then i am paying the trip off for an estimated 2 or 3 years. oh well, what else am i gonna do with my life except the things i want to?
September 23, 2006 - rave!
this will be ridiculously fun! a perfect show before the "tour", about which i shall post more shortly. 🙂 click the flyer to download a bigger version if you want. wooooooo!

ok! this wednesday, the 16th of august, i am playing in portland, oregon at holocene. i am playing with lots of super rad people. they are bllix, gasp, parklife, and senor frio. i'm pretty stoked, i haven't been to portland since is was 15 and i was with my mom and bro. yawn. so this time it will be more fun and i have lots of wicked friends in that city. rad. come see me if you can!
then i come back home and play a show on sunday, august 20th at strathcona park in east van (the SE corner). The event is called Co-Mutiny: A Pedal-Powered Party in the Park. it is indeed pedal-powered, something i have seen but never played through, and there are a shwack of people playing. Pol – Intellijel – DJ Bad – Rob Warren -Sealegs – Square Root of Evil – Ntropy – Phowa. wooo! it all starts at 4:20 pm, and there will be fun & games to boot. maybe a soccer ball? hmmmmm?
and then the big trip! i am planning to go to europa for a month and hit the uk (cause that's the cheapest place to fly in and out of) and then off to norway and finland and sweden and russia (st. petersburg). DOPE! i have a show in helsinki (maybe one in bristol and one in london) but am looking for more, so if anyone you know could help out i would be rather happy. no flights are booked yet, but i'm thinking mid sept (post decibel festival)-mid oct. more or less. i am going to be broke after this, but i've been wanting to see that part of the world for awhile. and as for st. petersburg- well, i used to build sand castes of this church when i was like 4. so yeah, i've wanted to see that for awhile. it will be superrad.
i have a bunch of time off work coming up (isn't that obvious with the travel plans?) so i am going to be making new songs for my upcoming ep. for real. no slacking this time. honestly. really.
I am playing a set this Sunday night, the 25th at the Alibi Room. I'm on at about 9:30, but come down earlier because before me there is a set by Robin Judge, and she makes some pretty d-o-p-e beats. And there are also 3 lovely DJs from the Reverse Crew playing too. The evening is a wrap up party for Ladyfest Vancouver, a festival that takes place over the weekend and features tones of bands, workshops and panel discussions. Check out their website or myspace for more info, it's pretty darn cool.
I decided to pull out of the show on June 17, as much as I didn't want to. I was having a lot of trouble coming up with a cool idea for some reason, and decided it was best to not play something that wasn't up to snuff. Fortunately BLIM is ridiculously understanding and I will be playing at another Video-Blim in September. So the next SROE show is June 25, at the the Ladyfest wrap party. But, I am also playing a show at BLIM on June 24 as X41, my top secret soundscapey dark ambient (!!!) project. Both of those are in the Live section. Still working on my EP (which is part of why I was having trouble with the Angry Little Monsters thing). I swear I will have it done soon. It's a lot harder when someone you are not good friends with is gonna listen and decide whether it's good enough to put out, you know?
May 1, 2006 - phew!
The month of shows is almost over! Not that I mind of course. 🙂 But it is hard to keep things fresh when you play that often. Thanks so much to everyone who has come out to the shows, it means a lot to me to see friendly faces and also to meet new people. YAY! One more show on the 7th in the afternoon as part of the CD release party for "2 B Inspired is 2 Inspire!". I'm pretty stoked to be involved. I'll only be playing 2 songs (so about 6 minutes) but there will be a TON of other people performing and it looks pretty darn awesome.


Then I plan to relax, work on some new tracks for that EP I keep saying is happening (finally!!!) and get my set going for the Angry Little Monsters show at BLIM in June. So yes, lots of time to spend staring at my computer screen coming up. But with this weather I might just have to take the laptop to the park and sit under a tree. 🙂
Powered by WordPress with Hiperminimalist Theme design by Borja Fernandez.
Entries and comments feeds. Valid XHTML and CSS.